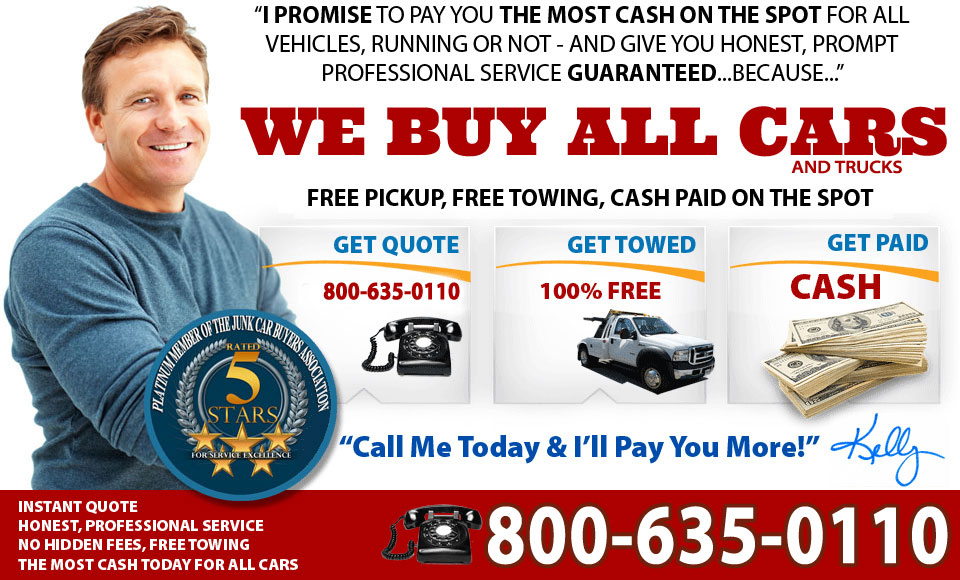 There is no underestimating the love American's have for their automobiles. When my wife's Jeep Grand Cherokee fell into disrepair after almost 200,000 miles she was devastated when she found out it would cost less to replace it than to fix it. We didn't know it at the time, but there are literally hundreds of businesses willing to pay cash for junk cars.
It is very unlikely that she would have been given a very good offer for a non-running Jeep at any local dealer to put towards trade-in. These guys are only interested in functioning vehicles that they do not have to put much money into in order to re-sell it to other customers.
Believe it, or not, whether your old junker has been totaled, or if it just needs repairs that you have deemed too expensive for your budget, there is still value left in the ol' girl, yet. Even if it is nothing but a pile of scrap, many of the people who deal in buying damaged vehicles will try to get you to sell it to them way below this value.
The reason is that they better understand the ins-and-outs involved in purchasing and selling autos that no one else wants. That's why when you visit Minnesota Car Buyer online you can rest assured that you are connecting with one of the most trusted names in the automotive reclamation industry.
We have decades of experience in helping people who have old beaters that are no longer safe to drive on the highway due to age, or collision damage. We understand that even the cost of having a broken down vehicle might be more than you can handle right now, after all you are likely in need of a new car right away. Costly tow fees, and other expenses can leave you just wanting to throw a tarp over it, and forgetting about all about it.
This decision is only whistling passed the graveyard, as they say, because it is only a matter of time before you eventually are forced to move the unsightly wreckage, and by then the old boat anchor will be even less valuable cue to further decay.
We welcome you to contact us here at Minnesota Car Buyer.
We have been buying and selling distressed autos since 1982 and our trusted and highly knowledgeable staff of specialists are ready to go the extra mile to answer any questions you might have regarding the value of your busted down transport.
Once you make the call, or stop in to one of our locations, one of our service technicians will meet you at your place of residence and provide you with a full report after inspecting and assessing the worth of your unwanted property.
If we feel that we can breath some life back into it for you we will offer a fair price, and if not we will still pay you right away for the scrap value, and the privilege of towing it away for you at no additional charge.
Call, or stop by today, and by tomorrow you could be standing where your old stand-by use to be, hold in a wad of cash.

Minnesota Car Buyer
1920 Hwy 35 North
Unit C
Somerset WI 54025
© 2020 Minnesota Car Buyer